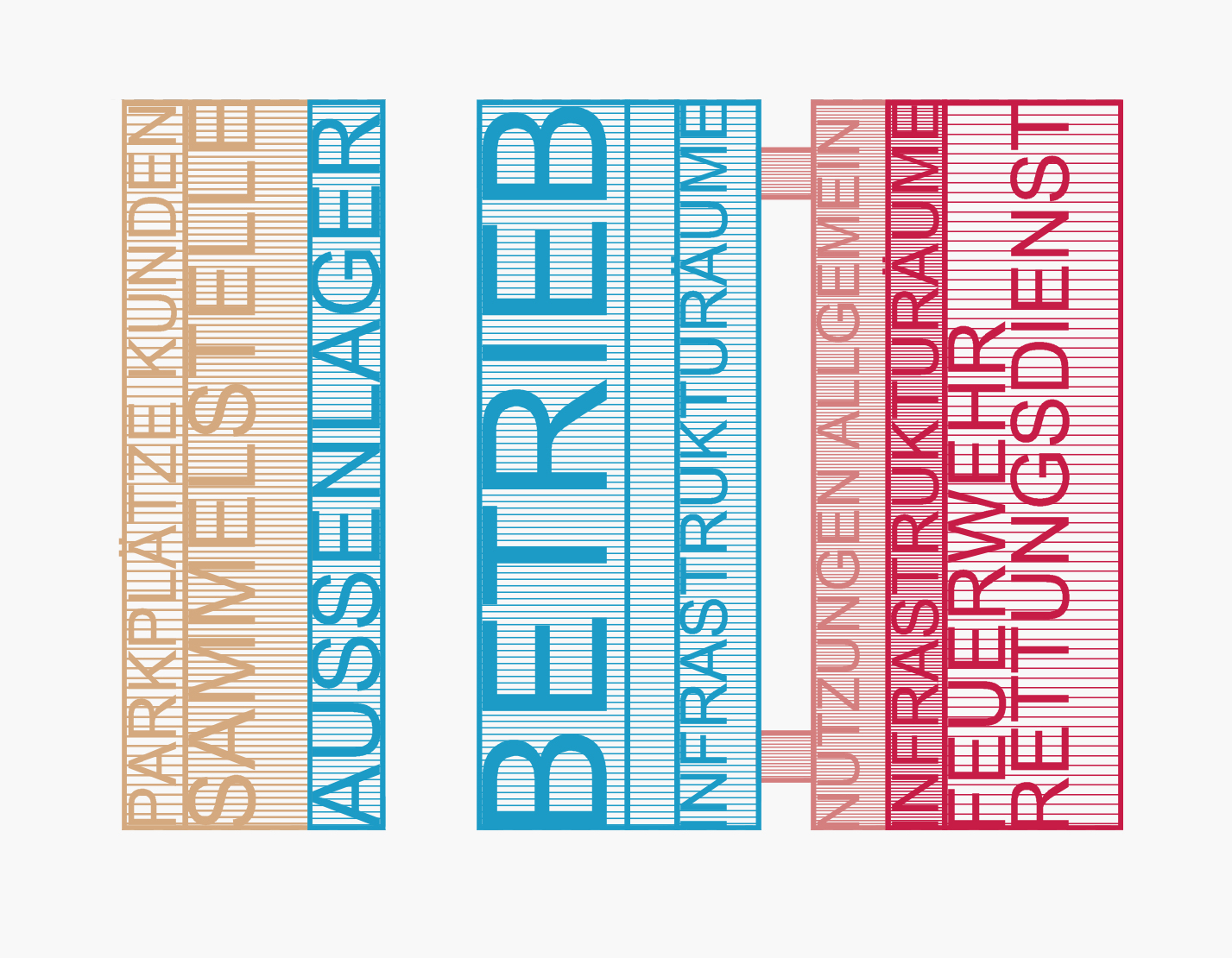 The new building for the Effretikon multi-purpose facility (fire station, city work deposit and trash collection) sets at the limit of an agricultural land, presenting a turning point in the landscape in terms of spatial perception.
We propose an answer that appears as a unit from the outside but with a clear separation among the programs, bringing the separately developed height level, which traces the natural topography as a large-scale landscape cascade.
The fire brigade and rescue service orientate their forecourt and the exits directly to Illnauerstrasse. A usage layer with the infrastructure rooms connects to the rear of the vehicle hall. These are supplemented by areas for general use and office space on the ground floor and first floor.
An introverted atrium, protected from glimpses, serves the employees as a private outdoor space and place for exchange.
We organize the water supply as well as the maintenance and forestry operations one level down. The focus here is on usability, functionality and flexibility. To the south, the corresponding outdoor areas are attached to the production hall in the form of a specially developed work yard.
The main collection point is on the lower plateau. It is divided into the free and chargeable area, which is flanked by the customer parking spaces and the ticket booth.
The structural concept with its column-beam construction and non-load-bearing partition walls allows for the greatest possible flexibility. A direct vertical load transfer is sought everywhere. To limit the use of embodied energy, material consumption was minimized and wood-based materials were used wherever possible. The basement was reduced to an obvious size and optimally positioned on the slope. Due to its orientation, the roof area offers optimal conditions for the photovoltaic elements over a large area.
NEUBAU MEHRZWECKANLAGE EFFRETIKON
5TH PLACE COMPETITION

ARCHITECTURE : UN-ICON + CLAIRE ENSANGE

STRUCTURAL ENGINEER : STRUKTURATELIER WOZNIAK+

URBAN ENGINEER : LIPPUNER ENERGIE-UND METALLBAU AG